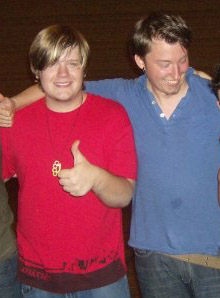 1. What's your name?
Rob Branscome
2. Where do you live?
New Castle, PA
3. When/where/how did you first hear Michael McFarland's music?
God, it's been almost five years… While he was in Aviatik, I found them on MySpace… ha ha ha
4. What's your favorite Michael McFarland song and why?
Man this ones hard… I really dig Remember Me
5. Have you ever seen Michael perform live? If so, when/where?
Yes a few times here in New Castle. He did a couple acoustic and a couple full band shows, for me and, with me, and I loved it every time.
6. What toppings would you like on your pizza?
Bacon, banana peppers, and cheese.
7. What's your favorite movie?
Pokemon: Mewtwo Strikes Back. (First Pokemon movie). I still get teary eyed when Ash turns to stone, ha ha!
8. How many fingers am I holding up?
3 [Close! It was 4]
9. Apart from Michael McFarland, who's your favorite musician?
Five Iron Frenzy
10. Rock, paper, or scissors?
Scissors
Michael chose Paper this month, so the victory goes to Rob!