Favorite CDs: Receiving End of Sirens–Between The Heart & The Synapse – From The Mind of McFarland music blog.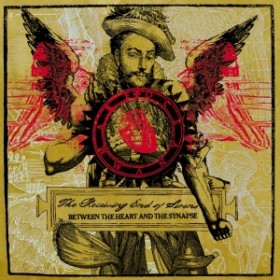 The Receiving End of Sirens are one of those groups that were amazing for one album, mediocre for the next, and then went away. I was first introduced to The Receiving End of Sirens through MTVU my senior – or perhaps more appropriately fourth – year of design school. The single "Planning A Prison Break" didn't actually make a big impression on me at first, but I had a tendency to let the music videos roll in the background while I was working; I've discovered that having a narrative visual distraction while I'm working is actually helpful, as it disconnects that portion of my brain and stops my mind from wandering overmuch. After the 30th time around, I found myself singing "Warden's calling for a lockdown, baby…" as I walked across campus, and soon discovered I had other friends doing the same. So I picked up the record.
This is one of those albums where the songs all blur together into one, big ongoing composition, and I believe that was intentional – there are melodic threads that wind their way through the entire record, reappearing multiple times, binding the whole thing into one big hour-long composition. While the progressive post-punk compositions can seem a little samey, in this case it doesn't bother me at all. The three vocalists provide intricate interwoven melodies, counter-melodies and harmonies, with Casey Crescenzo's earthy bellows and screams stealing the show.
For my money, it was Casey's departure from the group to focus on his project The Dear Hunter that led to the downturn in the quality of TREOS's music, an their eventual breakup. But Between The Heart And The Synapse still stands as easily one of my favorite CDs, and one that's well worth taking an hour to listen to.
One way you can see The Receiving End Of Sirens' influence on my music is that I always try to make my records to be cohesive whole – in the case of my most recent release, "A Failed Breakup", I chose the set of songs based on the story they told – that of my loneliness upon moving to Asheville, North Carolina, and how that led to reconnecting with the girl I'd left behind in Ohio.
-MMcF
———————-
Unleaded rhythmic alt-pop fuels singer/songwriter and two-wheel troubadour Michael McFarland's engine. Michael McFarland in the simplest summary? Writer, Rocker, Biker, Geek.
For Michael's Music, Cd's, Downloads, Merchandise, live show schedule, music blogs, music videos, and everything else you want to know about McFarland, visit the Michael McFarland Website at http://michaelmcfmusic.com/