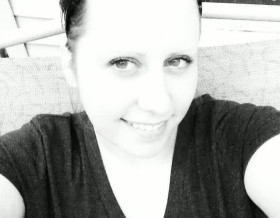 1. What's your name? Jenna Kizer
2. Where do you live? Tiffin, Oh
3. When/where/how did you first hear Michael McFarland's music?
It was the winter of 2009, and I was visiting my best friend in Bowling Green. Her boyfriend at the time was playing at Howard's Club. Michael was in a band called Aviatik then and his band was in the line up that night. I loved his style of music from the get-go and he's been my friend ever since.
4. What's your favorite Michael McFarland song and why?
At this moment, my favorite song is Bottle Rocket. Everyone has gone through something difficult in their life at some point and this song reminds me that none of us are alone and never will be. The past is the past and let's live for the future.
5. Have you ever seen Michael perform live? If so, when/where? 
I've seen him twice. Once was the winter of 09 in Bowling Green, Ohio and the last time was 2012 I believe. Bowling Green again.
6. What toppings would you like on your pizza? 
Pineapple and pepperoni. Hands down.
7. What's your favorite movie? 
I have many. But my favorite of all time is Boondock Saints.
8. How many fingers am I holding up? 
2 [Correct! But was it a peace sign or devil horns?]
9. Apart from Michael McFarland, who's your favorite musician? 
Ron Pope.
10. Rock, paper, or scissors? 
Rock, baby, rock!
Michael also chose rock. RE-MATCH!