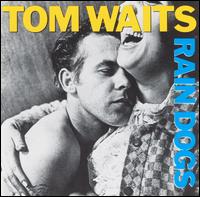 All Time Favorite Albums: Tom Waits – Rain Dogs – From The Mind of McFarland music blog.
Sometimes an album catches you at exactly the right moment. If you were to hear it on any other day, in any other situation, you might not care for it, but given the proper set of circumstances, it can become one of your all-time favorite albums.
"Rain Dogs" by Tom Waits is a perfect example of this sort of album, that not only made me fall in love with the CD, but led to me becoming a fan to the point where if anyone asks my favorite musician, I will without hesitation reply, "Tom Waits".
This collection of songs sat dormant on my Macbook's hard drive for the better part of a year before I heard it. It was late 2006, and towards the beginning of that year I had visited my sister in Albuquerque, New Mexico. It was an innocent time, when young people freely swapped mp3 files without a thought to copyright infringement lawsuits, or perhaps just to piss off Lars Ulrich, and so when I left New Mexico my iTunes library just happened to contain a number of previously-not-present albums, and this was one of them. I knew nothing of Tom Waits – I had heard the name mentioned a few times, and in retrospect I recall hearing a few of his songs, but if you asked my opinion of him as an artist you would have been met with a blank stare. I mentally filed the album under "listen to it when I've nothing better to do" and forgot about it.
Fast forward to December. I'm working on finishing up my BFA in Visual Communication Design at Kent State University, pulling my third all-nighter in a row. I know I can't allow myself to be anywhere near anything resembling a bed, so I'm at the Art Building, in the Glyphix Studio (Glyphix is a student-staffed, on-campus design studio). It's 3:00 in the morning, the only light is the bright glow of my stations' PowerMac display, supplemented by my MacBook Pro. As I work feverishly on a now-long-forgotten project, Thursday's "War All the Time" album keeps me company. The last chord of the song Tomorrow I'll Be You fades away to silence…
…and the most jarring sounds start emanating from my laptop. Clanking, rattling and stomping, held together by a drunken upright bass. I hear a voice made of crushed gravel croaking out what sounds like a demented song from a Disney cartoon. "We sail tonight for Singapore. We're all as mad as hatters here!"
"This is it," I thought. "I've finally pushed my body and mind past the point of exhaustion, and now I'm hallucinating."
It took me a few minutes to regain my balance, mentally, and by that point "Singapore' had given way to the creaky dirge Clap Hands. From there on out I was hooked, and it quickly became one of my all time favorite albums. There are 19 tracks on the CD, and I won't skip a single one of them, but Jockey Full of Bourbon, Gun Street Girl, and Walking Spanish are some of my favorites.
Though Tom Waits is one of my favorite musicians, his influence may not be obvious in my music, but I'll let you in on a secret – the use of the mbira (African thumb piano) in Remember Me was directly inspired by the clanking and clinking noises in Clap Hands.
 Track 3 from my record "A Failed Breakup": Remember Me
Check out my whole record here, or Tom's here.
-MMcF
———————-
Unleaded rhythmic alt-pop fuels singer/songwriter and two-wheel troubadour Michael McFarland's engine. Michael McFarland in the simplest summary? Writer, Rocker, Biker, Geek.
For Michael's Music, Cd's, Downloads, Merchandise, live show schedule, music blogs, music videos, and everything else you want to know about McFarland, visit the Michael McFarland Website at http://michaelmcfmusic.com/