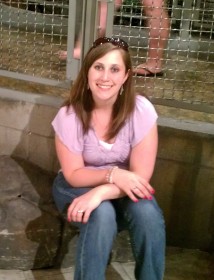 What's your name?
Melissa Bode
Where do you live?
Wooster, OH
When/where/how did you first hear Michael McFarland's music?
When he started advertising for the 'Failed Breakup' preorder, I started listening to all the songs on the past cd's through his website and instantly liked the style of music as well as the lyrics.
What's your favorite Michael McFarland song?
A Failed Breakup – …because it is unique, well written, the music is catchy… and i love it a lot.
Have you ever seen Michael perform live? If so, when/where?
I attended some of his shows in college, but more recently, the show at the Outpost in Kent, where the songs I already loved sounded even better live and I got to hear a few of the new ones.
What toppings would you like on your pizza?
Ham and Pineapple
What's your favorite movie?
I honestly can't say that I have a favorite movie. There are several comedies that I will watch again and again, but my favorite genre is mystery, and those get boring if you know the endings. But really there's no movie that I don't find entertaining.
How many fingers am I holding up?
31.
I've watched his counting in binary video blog… figured it couldn't possibly have been 10 or less…
Apart from Michael McFarland, who's your favorite musician?
The Lumineers, Hunter Hayes, David Cook
Rock, paper, or scissors?
Usually rock, with some scissors thrown in on occasion.
Michael threw Paper this time, so we'll call it a draw.