First Albums: Third Eye Blind – Self-Titled – From The Mind of McFarland music blog.
A few years back, I noticed that, when discussing music, I had mentioned that this album or that album was on my "top 10 of all time". I started running a mental count, and quickly realized that my count had at least 12 albums on it. I blame the fact that I'd been doing some reading about Nepal (What? Sherpas are cool.), and the Chepang language has a duodecimal system… but I digress. I went through my music library, and found far more than 12 standout albums, worthy of an "all-time" award. I plan to continue to write about them, in no particular order, on no particular timeline. So, to quote The Joker,
"Here… we… go!"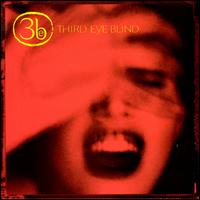 If you're looking for where I began my musical career, this is ground zero. I'd heard several songs (Semi-Charmed Life, Jumper, Graduate) on 107.9 The End, the Alternative station out of Cleveland. I can credit that station with introducing me, in my teen years, to many groups that have been my greatest influences. In those pre-napster days, the best way to get free music was the infamous BMG Music Club – buy one CD, get 12 for free! Looking through their catalog, I found albums by 12 bands I recognized from the radio, and so this happened to be one of the first albums I ordered. A few weeks later, a big brown truck delivered a box of goodness to my door.
This album was certainly the standout, especially since I don't remember what any of the other 11 discs were. Put succinctly, that was when I discovered the difference between a band that writes singles, and a band that writes albums. On this album there is no filler, no throw-away songs, just 14 tracks of painfully catchy alt-pop about suicide, heartbreak, drug use, and car accidents.
A few months later, I decided to learn to play guitar. "How's It Going To Be" was the first song I taught myself. At one point I could play every song on this album, and with a guitar in my hand and a gun to my head I could probably still give at least half of them a good go.
I've had a few people compare the vocal style of some of my songs to Third Eye Blind (most recently referring to "Stay" from my latest record). I couldn't think of a nicer compliment.
-MMcF
———————-
Unleaded rhythmic alt-pop fuels singer/songwriter and two-wheel troubadour Michael McFarland's engine. Michael McFarland in the simplest summary? Writer, Rocker, Biker, Geek.
For Michael's Music, Cd's, Downloads, Merchandise, live show schedule, music blogs, music videos, and everything else you want to know about McFarland, visit the Michael McFarland Website at http://michaelmcfmusic.com/