Best 2000s Albums: Our Lady Peace – Gravity – From The Mind of McFarland music blog.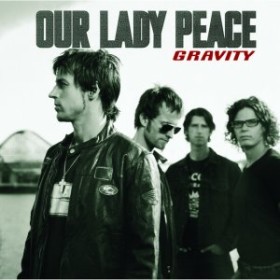 A while back, I started a series of blog posts on my top 20 albums. As so often happens with things like that, life got busy with recording, touring, and the other non-music-related things (they do exist, astoundingly) took up my attention and these posts fell by the wayside. However, this series is now back with a vengeance, and I'm no longer limiting myself to just 20 albums.
In the process of pre-production for my new record in February 2013, the issue of my favorite albums of all time came back into focus. When Jason Rubal, my producer, arrived in Asheville, the first step in preproduction was not listening to my songs, discussing arrangements, track orders, or anything of the sort – we spent an entire afternoon just listening to music. Anything that was influential to me, important to me, or I just really liked. Before we began with working to shape my music, Jason needed to understand where I was coming from. Comparing the songs I shared with him to the old list of top 20 albums I'd put together, I realized, unsurprisingly, that they were almost identical. Since those albums are pertinent to the music I make, it struck me that it only made sense that I should wear those influences on my sleeve.
And so, onward with one of the best 2000s albums!
I'm the first to admit that there's a lot of 90s alt-rock in my music. It was where I began my journey into modern music (up until I discovered 107.9 The End in Cleveland, my musical experience was mostly limited to Classical and 60s Folk), so trying to hide it would be absurd. This album actually came out in 2002, so it's slightly outside that range, but I still lump it in with the genre – Our Lady Peace first emerged on the global scene with Clumsy in 1997 – but I still consider this to be their best work, and easily one of the best 2000s albums.
From the hard-hitting opening track "All For You" to the soaring, sentimental "Somewhere Out There" to the stirring but somewhat overplayed "Innocent", Our Lady Peace manage to blend a finely honed melodic sensibility with hard-edged production. Raine Maida is perhaps at his best here as well- a little of the whining tone his voice had on previous recordings is gone, without sacrificing his unique vocal character.
I'm pretty sure most of my songwriting career I've been trying to match the anthemic quality of Innocent. With the closing track "Lighthouse" on my new record, I think I've finally made it into the neighborhood.