Favorite Albums: Jimmy Eat World – Clarity – From The Mind of McFarland music blog.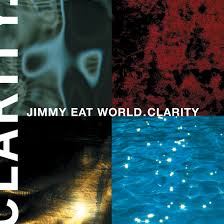 There have been a few times where I've happened across a record that has some element that affects me so profoundly, I find myself attempting over and over to emulate it. The ending of Clarity by Jimmy Eat World, easily one of my favorite albums, is a perfect example of this.
The final track of Clarity, an album which is widely considered a landmark in the post-punk (call it "emo" if you'd like) genre, is called Goodbye Sky Harbor, a title whose meaning I only understood while driving into Phoenix, AZ on tour last year, and seeing the signs for Sky Harbor airport. Jimmy Eat World are from Mesa, AZ, which, from an outsider's perspective, is the same city as Phoenix, Glendale, Scottsdale, Gilbert, or Chandler… which I'm sure is heresy to a local! Regardless, the realization that "Goodbye Sky Harbor" meant getting on a plane and leaving your hometown was one of those "aha!" moments. But I digress.
Goodbye Sky Harbor is sixteen minutes and twelve second long – a track length which, unless you're Godspeed You! Black Emperor, or another group that makes habits of painting extended musical pictures, sounds absurdly self-indulgent, but here it works, because of the structure: Two minutes of tightly arranged, emo-pop songwriting – par for Jimmy Eat World's course – followed by a long, flowing, slowly shifting set of looping parts. It eventually meanders its way into a spacey techno beat, which I swear is the inspiration for every Postal Service song.
I first heard this record when I was 17, and from that point onward, I tried to make sure that every release I put out had a sense of finality in its closing.
On my latest record, "A Failed Breakup", you can see that same desire for a sense of closure, and even a little bit of that first movement/extended second movement structure in the closing track "Lighthouse".
-MMcF
———————-
Unleaded rhythmic alt-pop fuels singer/songwriter and two-wheel troubadour Michael McFarland's engine. Michael McFarland in the simplest summary? Writer, Rocker, Biker, Geek.
For Michael's Music, Cd's, Downloads, Merchandise, live show schedule, music blogs, music videos, and everything else you want to know about McFarland, visit the Michael McFarland Website at http://michaelmcfmusic.com/