Favorite Music Video – My Creative Inspiration – From The Mind of McFarland music blog.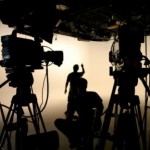 I love making music videos – starting with a concept, taking creative inspiration from a song, building a visual representation or augmentation of a sonic idea. At this point I've been involved in the creation of six music videos (four of which were for my own music, or projects I've been involved with) and am currently in the planning phase for two more. I've never gone into a music video project with the idea that a video will magically "go viral" and the associated song will become an overnight sensation, but rather with the idea that a well-crafted video can greatly enhance the appreciation of a piece of music. I arrived at this idea from my favorite music video: "Warning" by Incubus.
Every time I've started developing a concept for a music video, I've had this one in the back of my mind. The creative inspiration for the video isn't hard to surmise – it's derived from the lyric, "She called out a warning/Don't ever let life pass you by". This one line was expanded into an entire narrative, which, after watching the video, is impossible to divorce from the song itself.
For every music video I've had a major part in creating, that became my aim – to create something that forges such a memorable connection to the song, that once seen, the two can not be separated.
Sit and Wait
My most recent music video project – the creative inspiration for this one came from the line "So I'll sit here 'til the morning/Yeah, if that's what it takes/'Til the sunlight meets my silence/In the dawn as it breaks". It was conceived of, shot and edited in the course of three days. The reverse time-lapse idea hit me at about 2:00AM, just 4 hours before I started shooting – and yes, all the timestamps are accurate.
Bottle Rocket
The concept for this music video actually preceded the song. On new years eve, I was shooting bottle rockets off my front porch, and the idea that each rocket represented something I wanted to let go of hit me, and I couldn't let go of it. I wrote the song as a vehicle for the idea, and put together an event where my friends could share in this wonderful catharsis.
Start to Begin
The script for this one was written by my good friend R.L. Shaffer – I'd presented him with a basic concept of two timelines diverging and re-combining, describing it to him as "A little bit of Sliding Doors, a little bit of the split-screen scene from Rules of Attraction, and a little bit of Terminator. Because, no matter what choices you make, you can't stop judgement day." He came up with a script that hit far closer to home with what the song was written about than I'd anticipated, which, it turned out, was exactly what was needed.
Hail, Hail (The Bride's In Jail)
From my now-on-geographical-hiatus band Aviatik, this video was the first I helped put together, pulling creative inspiration from the line "Shotgun wedding while your best friends hang", and the idea that places hold the echoes of events that happened there in the past.
I plan to start shooting (and collecting!) the footage for my next music video this coming week, while on vacation in Cape May, New Jersey. I'll let you guess for which song off my new record it might be…
-MMcF
———————-
Unleaded rhythmic alt-pop fuels singer/songwriter and two-wheel troubadour Michael McFarland's engine. Michael McFarland in the simplest summary? Writer, Rocker, Biker, Geek.
For Michael's Music, Cd's, Downloads, Merchandise, live show schedule, music blogs, music videos, and everything else you want to know about McFarland, visit the Michael McFarland Website at http://michaelmcfmusic.com/