No, it's not because of Lebron. Mostly.
photo credit: Rabesphoto
A month ago, my wife & I decided that we were moving from Asheville, North Carolina to the Near West Side of Cleveland, Ohio – specifically, to the Gordon Square neighborhood. We made our decision quickly, but not without a lot of careful thought. While it may seem trite to credit philosophical rationale to a film, at some point in my teenage years, a sidebar from Jim Jarmusch (from Akron, Ohio)'s film Ghost Dog stuck with me. Forrest Whitaker's inner-city Samurai/Hitman quoted from the Hagakure, "A decision should be made in the space of seven breaths".
I feel most of the important decisions in my life have been made this way. Once the necessary information has been collected, dwelling on a decision does nothing but cloud the matter at hand. Analyze your data, weigh your options, and then trust your gut.
Some background:
I grew up in North East Ohio, in the suburbs of Kent. My father was a professor at Kent State University, and we lived in a spacious house with a big back yard. Going anywhere required getting in the car – nothing was more than a few miles away, but everything was just a little bit further than seemed convenient by foot or by bicycle. Walking and biking were for recreation, not utility.
I attended Kent State University, studying Visual Communication Design. I lived on campus. My legs saw a lot of use, and it felt good. Everything was at your fingertips – food, knowledge, entertainment – but in the pre-packaged environment you can expect from a college campus.
Shortly before graduation, I purchased a house in Stow, firmly situated in the suburbs. I bought the house with a vision for what I could do with it: a recording studio and practice space in the basement, a place to build my Graphic Design business, an open and welcoming environment for my friends and my friends' friends. I can't count the number of people who crashed on couches and floors in that house over the six years I lived there. While the surroundings were not compelling for me (every chain store or restaurant you could imagine within a few minutes drive!), what occurred within those walls was an end unto itself.
In the summer of 2010, I was shattered by the collapse of my engagement to a woman who had also grown up in the Kent area. Suddenly, everything I saw on a daily basis was soured by memories of that relationship – when your entire life has been lived, for the most part, within a 5-mile radius, it's hard to escape the daily reminders of how things didn't go according to plan. I began to plot my escape.
In September of 2011, I relocated to Asheville, North Carolina. From the start, I viewed Asheville as less of a destination and more of a waypoint – I said, "I'll give it a year, and see how things go. If I'm not happy, I'll move on." I knew that if I was able to survive the move away from Ohio, the world would then be my oyster.
Asheville's a beautiful, seductive place, laden with gorgeous scenery, great food, plentiful microbreweries, and not a chain store to be seen downtown.
After one year, I had no desire to leave. It was a great home base for touring – I covered most of the US on tour in 2012.
Another year, and I married my wife Beth on top of Mt. Pisgah.
Six months later, I knew it was time to move on.
I can't point to one single event, just a series of loosely connected realizations that accumulated into the sense that my time in Asheville was drawing to a close.
Beth & I set our sites on Austin, TX. It had long been on both of our lists of places we'd love to live. We planned a trip for mid July to scout out the city, both of us operating on the assumption that we'd be moving there within the next 8 months.
We had a great time on that trip, but Austin just didn't feel right. I was physically unable to deal with the Texas heat, and housing costs were stomach-churningly high for us. Sitting in a gelato shop in North Austin, we discussed our options.
"We could always backpedal and stay in Asheville for a while longer," I said. "Or… and this might sound crazy… but what about Cleveland?"
It was just the previous day that Lebron James had announced that he would be returning to Cleveland to play for the Cavs, so there's no way I can completely discount the effect his Decision (capital D) had in this question – someone who could literally choose anywhere in the country to call home, chose this city. But far more than Lebron, credit is due to Jack, Jeremy and Paul.
These are my friends who for the last several years have been singing Cleveland's praises; sharing every positive article published about the city, mentioning every great new restaurant, every resurgent neighborhood, every new downtown development. These were the Cleveland evangelists populating my Facebook feeds with the idea: Cleveland is the next big thing.
Any of the "cool" cities on our list – Austin, Portland, Seattle, San Francisco – were already well out of our price range as places to plant our flag. That's because people believed in those cities, and put down roots before the cities were "cool". They contributed their energy, their talent, their enthusiasm to their neighborhoods and their cities. They were what made the city flourish, and what eventually made the city "cool".
This is why Beth & I made the decision that we want to be part of something that's in process of happening, not something that has already happened.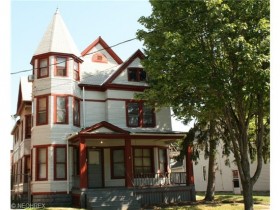 Our second day visiting Cleveland, we put in an offer on a 3-story Victorian house, one block off Detroit Avenue. Our offer was accepted the same day. If all goes to plan and there are no unexpected issues in closing on the house we will be relocating at the end of September.
In the 1940s the house was converted into a men's boarding house, and hasn't been updated since. It has random sinks and stoves scattered throughout. It's going to take energy, vision, and hard work to make it into our dream house, but we're willing to put in the effort.
Cleveland is going to take energy, vision, and hard work.
We're willing to put in the effort.